DVDit PE guide
You can download a demo of DVDit SE which will give you an insight in what the program can. If you like it you can buy it online. Homepage
After my rather devastating experience with my sources I've used since DVD Quick builder I decided to take another approach. Using DVD2AVI and the VFAPI reader codec I created my pseudo AVIs directly from the VOB source. DVDit accepted these files quite happily and allowed me to finish my miniDVD work.
DVDit has a rather unique way of handling DVD creation and it took me a while to completely figure it out. Thanks largely to a really great manual I was able to create quite an impressive miniDVD in only a couple of hours. So whenever you have a question concerning the program instead of contacting me take a look in the manual. It's well structured and answers quite a lot of questions. In retrospect I think that although I had to relearn how to master a DVD DVDit's approach to handling is quite superb.. it's really easy and makes full use of Window's drag&drop capabilities.
There's 3 things I missed in the program. But I doubt that these are present in any program affordable by anyone else than a DVD mastering studio with a million dollar budget for hard and software. Number one is the ability to define how a button looks and reacts when being clicked upon. I'd like to replace the button bitmap with another bitmap to create the effect the buttons in "The Matrix" main menu have... the green square between the selected menu alternative. The second missing point is animated menus. In DVDit it's not possible to have an animated menu background, as it's for instance possible with DVD Wise. The third is the ability to not only take a frame of a thumbnailed video but rather have the whole thumbnailed video play in a menu button.. as in the chapter selection of my favorite movie - The Matrix. Assuming that there's a more advanced version of DVDit that includes these 3 features I think the program would be unbeatable. Furthermore I missed the ability to create DD 5.1 tracks but regarding the fact that you'll hardly have DD PCM sound or 2 WAVs with the rear and the front channel I can live without this option. In any case there's the possibility to encode mp2 and wav sources to AC3 format.
Step 1: Preparing the sources
DVDit PE does NOT support bitmap overlay over a video so you don't have to create templates. And as DVDit works in true DVD editing mode - you'll have a static or animated menu background, and place buttons and videos on that background - you can't just draw buttons on the menu's, but you'll have to create your own buttons from the menu bitmaps and overlay them over the menu.. which means a lot of cutting and image editing in general. For the best results you should set a transparent background to the menu bitmaps, for instance using Photoshop. You'll find more information about how these buttons should look later on..
DVDit does its own muxing, it's therefore important that you have m2v, mp2, wav or ac3 files separately. You should also respect the DVDit's limits concerning codecs for source video and resolutions for both video and bitmaps. These resolutions are 720/704/352 X 480/240 or 576/288 - the latter vertical values are for PAL sources).
Step 2: Authoring the miniDVD
Since the way of using DVDit is quite non-standard and heavily relies on drag&drop it's impossible to convey the full "how-to", so whenever you have a problem with a step you should turn to the manual, which precisely describes what has to be done.
Let's begin with the basics: DVDit starts up with a main large window and a smaller window which contains the current theme. A theme is a collection of backgrounds, buttons and media files.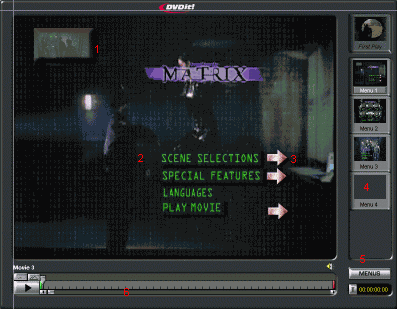 As you can see I made a screenshot of the main Matrix menu, and overlayed several objects over it. Number one is a button created out of a menu. Number two is a button created but a small bitmap.. if you look hard enough you'll see that pattern around these buttons don't quite match.. because I didn't bother to create proper buttons with a transparent background. Number three are standard DVDit buttons. Number four is the thumbnail list for the menus. You can change from menus to movies by pressing the button number 5. The time indicator below that button is also used to define chapterpoints in a movie. Number 6 finally is the timeline which you can use to navigate thru your movie sources.



As said before a theme contains all your source files. You can see some of the buttons I created on the left. The buttons at the bottom represent - from left to right - backgrounds for menus, buttons, texts, media files and preview playback. Right clicking on a theme item will bring up a popup menu which allows you to play, stop, delete or add a theme item. Despite the fact that you can actually import bitmaps in the media category it's suggested that you respect the order of DVDit... especially for the buttons which gets screwed up if you import them in the theme section.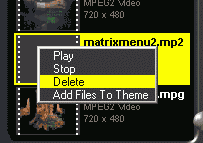 This is just one example of this popup menu. When you have imported all the sources it's time to start authoring.




To define the start item of your DVD simply drag a background bmp or a movie from to the First Play item window. I have chosen the nice animated intro of The matrix as my intro movie. Then you can create more menus by dragging and dropping background bmps to the menu windows and the same goes for movies. You can switch between the movie and menu section by using this button:

To add a soundtrack to a menu or a movie that you have in the movie / menu list simply drag and drop a soundfile from the theme to the thumbnail of the movie / menu.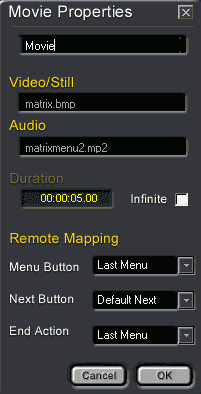 Right click on any item in the menu / movie list and select properties. You can define the duration (for menus only), and the button assignment as well as the name of the item. You'll also see which video or bitmap and audio track has been associated to the item in question.
To define chapters in the movie you have to "load" the movie by clicking on the thumbnail, then DVDit will allow you to play the movie using the play button on the left corner of the main window. You can set a chapter point at any place in the timeline by simply double clicking at the appropriate position:

Alternatively you can enter the timepoints manually:

Do delete a chapter point, simply right click on it and select the appropriate menu alternative:

Here's how I create and link buttons: First you activate the menu by clicking on its thumbnail. It'll then be displayed in the main menu. Then you drag & drop a button at the appropriate position.

You can resize the button by clicking on the red dot in the middle of the button, clock on it, then keep pressing the button and move around your mouse and you'll get how it works. Then to define a link to another menu simply drag the appropriate menu thumbnail on the button: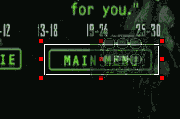 To associate a movie to a button first select the menu by clicking on its thumbnail, then clock on the movie's thumbnail which will activate the movie's timeline and show you the chapterpoints if you've defined any. You can then simply drag and crop a chapterpoint on the button. If you drag the first chapterpoint on the button the whole movie will be played. You can also create a movie button by dragging and dropping a movie chapterpoint or movie from the movie list to an unused area in a menu. This will create a button that has a thumbnail of the movie's current frame as shows in the very first image.

To define the menu's and buttons properties select Effects in the main menu:

Drop shadow changes the effect of the button's look. The nice thing about DVDit is that it shows you the changes as you apply them.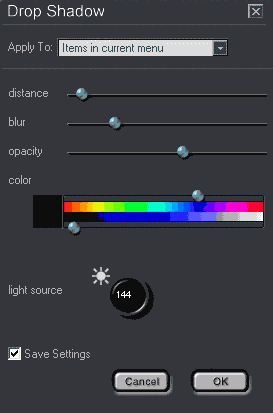 Define the dropshadow effects here. Make sure you have a menu that has buttons in active in the main window and you'll see the effects as you apply them. You can decide to which items these effects will be applied.

When you think you're project looks good press the rightmost button in the themes windows. This will launch a real-time preview. Isn't that neat? The remote control that comes up works as the remote control for a standalone DVD so you should have no problem moving around and testing if everything works as you wish.
Then if you are satisfied with your project you can burn it. DVDit even allows you to burn the project directly on a DVD-R or CD-ROM and in case of a CD-ROM add a DVD player so you can play it on any PC. Build - Make DVD disc will allow you to burn a DVD or miniDVD (or called cDVD in DVDit talk), or you can select Build - Make DVD folder to create the DVD on your harddisk and burn it later as described.
When you start to create master your project you can define how DVDit treats its sources. M2V, and AC3 files will not be touched, but as soon as there's an AC3 file present all non AC3 sources will be converted to AC3.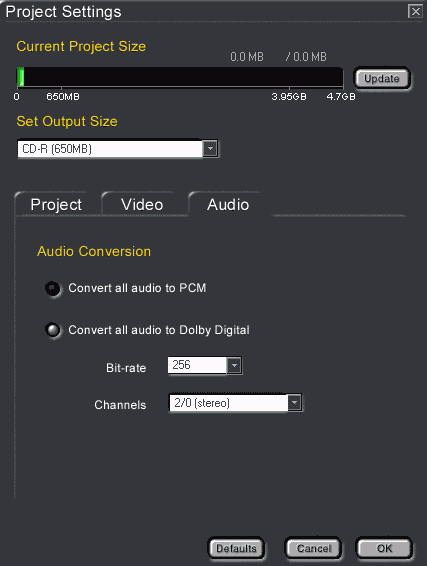 DVDit will show you how large the project will get. You can decide whether to use PCM audio or Dolby Digital audio. Of course Dolby Digital saves a lot of space so it's the best solution. You can't select every bitrate.. I'm not sure whether you'd have to buy an upgrade or if there's a limit for 2.0 channel Dolby Digital tracks that impose these limits. In the video settings you can decide what DVDit does with non MPEG sources.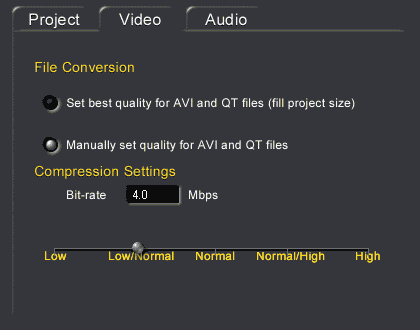 Set best quality does not always fill project size. As a matter of fact DVDit kept telling me that my project will be larger than one CD when I selected that option so I had to manually define a bitrate. However, take my advice and do NOT use DVDit's MPEG encoder. First of all it's really sloooooow. bbMPEG smokes it easily and that's the slowest encoder I knew so far - sorry Brent.. it's a great software but just too slow. I converted about 33% percent of my menu intro in DVDit and it took 3 hours. Converting the same file in TMPG took about 40 minutes... and I'm talking about the whole file in this case. Besides the output of TMPG looked much better. Sonic should license the CCE engine and incorporate it into their programs.. that would be an perfect solution.

Then let DVDit work. I haven't tried out the burning feature so far but since the program did not crash today I suppose that this should work as well.

Need I say more? Someone implement the features mentioned at the beginning and Doom9 will be a very happy ripper indeed. It would also feel really good to have created a professional DVD for once. All my authoring tries so far have somehow been not completely satisfactory. When I do something I want to do it right.. and that means the perfect copy of The Matrix.