TooLame
Toolame is a command line based mp2 encoder based on the famous LAME encoder. The probably easiest way to use it is as external mp2 encoder in TMPG.
Once you started up TMPG go to the environmental settings:

Then go to the external tools, check Layer-2 and choose toolame.exe. Note that depending on the toolame version you have it may not be called toolame.exe but something else. TMPG requires that the file is called toolame.exe so if it's not, rename it to toolame.exe.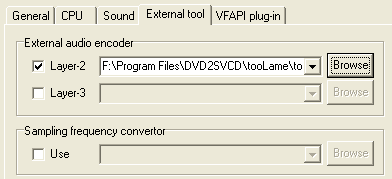 TMPG contains a built-in sampling rate converter, so it doesn't matter whether you load 48KHz or 44.1KHz audio files. Depending on the audio sampling rate you select in the settings the audio will be downsampled. If you're not happy with the quality of the downsampling you can use another frequency converter which you set up in the same way as toolame. A good sampling rate converter is SSRC.

If you haven't already now it's time to load an audio source in the main window. When your video source contains audio as well TMPG will automatically fill out this field, but if you have a separate audio source (the .avs when using Xmpeg, a WAV file when you follow the dvd2avi guide) you'll have to select it by pressing the Browse button and selecting the audio file.

Then configure the audio options by pressing the settings button, then go to the audio tab.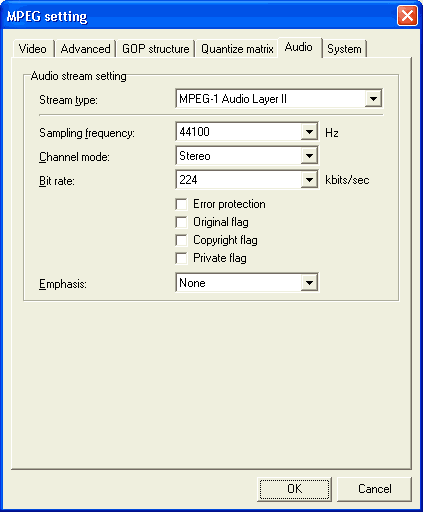 VCD and SVCDs require 44.1KHz sampling rate. VCD requires 224kbit/s whereas for SVCD the bitrate can be lower. Leave the rest of the options unchecked.

Basically this is everything. If you're doing audio only (you use another encoder than TMPG for video) then select Audio only as stream type and press the Start button now. Otherwise go on configuring TMPG.

>> BACK



This document was last updated on 08/17/02