ProjectX
Where the heck is the exe file you might ask? There isn't any. ProjectX is a Java program. In order to run it, you'll need the Java Runtime Environment (JRE) installed. After the installation, you can just double-click on ProjectX.jar and the program will launch.
At first, you'll feel like being on Mars.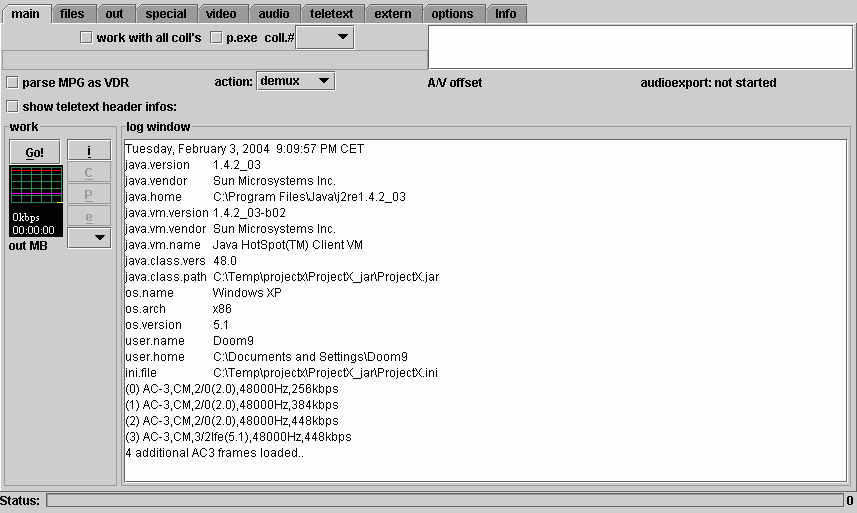 Some people might like that "different" look, but if you rather stay closer to home, click on Options, then select com.sun.java.swing.plaf.windows.Windows (that's the 3rd and last option) from the installed look & feels dropdown list.
Now that the program will look a bit more like what you're used to, click on the extern tab, and check Mpeg2Schnitt idd version V2/A3: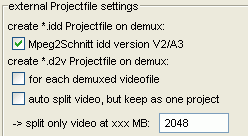 This will create information files about video and audio which will then be used by the cutting program and spare you from having to wait for a while when you load the content into the cutting program. Having this analyzation done while ProjectX goes over your movie is a lot quicker.


Now go back to the main tab, and right click in the rectangular white area in the upper left: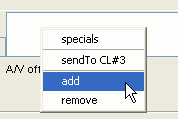 Then select add from the list, and select your PVA or TS file. If your recording software split up the movie, add each captured file using this procedure.


Then press Go! to start the demux process.

This will take a while, depending on the speed of your harddisk. If you have two harddisks, make sure the source is not on the same disk as the output.
For more information about ProjectX, please refer to the ProjectX reference document.
>> BACK