NeroDigital Guide
I'm pretty sure you've heard the name Nero before. It was probably that piece of software that came with your CD / DVD burner, was it not? Its maker, now known as Nero, has been aggressively moving into the DVD backup market earlier this year with the release of Nero 6. It came with an AAC audio and a package called NeroVision that allows you to create and edit video and put it on (S)VCD or DVD discs. It also came with an application called Recode, which could be used to transcode DVDs to make them fit on a standard DVD±R/W disc.
But at the same time, Ahead was working to enter the "back up your DVDs to a single CD" market, which was started 4 years ago with the DivX ;) codec. Instead of developing yet another MPEG-4 codec, Ahead chose to go a different route. Their NeroDigital solution is an entire package for video, audio and subtitles, based entirely on the MPEG-4 standard. It includes an MPEG-4 Advanced Simple Profile video codec, an MPEG-4 Advanced Video Compression codec, a High Efficiency AAC audio encoder, using the standard MP4 container to contain both audio and video (and subtitles, but in a nonstandard form). The container also supports chapters which are taken from the original DVD. And instead of offering the tools separately, NeroDigital has been included in the upcoming major release of Recode - Recode 2. Recode 2 begins where Recode 1 left of. Users of the previous version, and users of its cousin DVD Shrink - will immediately feel at home since the GUI is so familiar. And as Recode 1, Recode 2 can also be used to transcode DVDs to a DVD±R disc and in addition to put multiple DVDs on a single DVD±R disc. And then of course there's the NeroDigital mode which converts a DVD to an MP4 file using NeroDigital.
So, keep in mind, NeroDigital means a lot of things: NeroDigital audio is an AAC codec, NeroDigital video can mean an MPEG-4 ASP codec, or an MPEG-4 AVC codec. The only difference when Recode is concerned is the NeroDigital profile you select. The output, is an MPEG-4 standard MP4 file and can be played by any player capable of standard MPEG-4 video and audio (it must support the video codec you used though, an MPEG-4 ASP player cannot play AVC content, and the other way round).
While the solution is certainly powerful, there are some drawbacks you should consider: There are many DVD players that can handle MPEG-4 ASP video, but only two that can handle NeroDigital as a whole (and even then only NeroDigital ASP, the AVC codec is not at all supported at the moment this guide is written). And while you could use just the ASP codec, Recode's output is MP4 and there are very few players that can handle this currently. Furthermore, hardly any standalone player can handle AAC audio. And even when you play it on the computer, you only get subtitles and chapters if you use the official Nero Media Player called Showtime. Also, there is currently no tool to edit MP4 files (cut, join).
You'll need the following software for this guide:
DVD Decrypter & Daemon Tools or an on-the-fly decryption driver like AnyDVD or DVD Region-Free
Nero Recode 2.2
ImgTool & DVD Decrypter or a commercial DVD burning program (if you prefer not to burn using Nero Recode)
Step 0: First time setup
You'll only have to perform this step once. First time setup involves setting many parameters which then help to make subsequent DVD backup projects a lot easier.

Step 1: Ripping the DVD
As Recode does not support encrypted DVD content, you have to rip the DVD to your harddisk first. If you have AnyDVD or DVD Region-free installed, you do not have to perform this step as they allow Recode to rip and encode on the fly.
Step 2: Backup up the DVD
In the startup screen you have 5 options to choose from: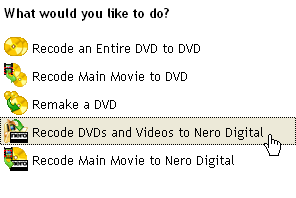 The first three options are about DVD to DVD backups and do not concern us. Recode DVDs and Videos to NeroDigital allows you to process multiple sources, from DVD or otherwise, and compress them to one of the NeroDigital codecs. Recode Main Movie allows you to copy the main movie of a DVD and put it into NeroDigital format.

This document was last updated on August 13, 2005